WordPress image paste... having to download or save images and then add them to the media library was driving me crazy! Automatic really should build image copy and paste into WordPress. It is such a massive time saver!
Anyway, paste image doesn't seem to be available by default, but have I found two potential options:
OnePress Image Elevator (free)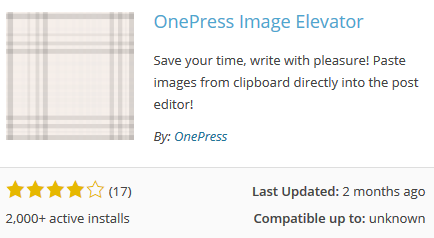 OnePress Image Elevator reviews are good and it is free for the core paste image feature. It sounds like there have been a few small bugs, but these were attended to by the developer.
Ignore adam1567 giving it a 1 star review... "Looks great except that it uses CTRL+V with no option to turn it off or change it so you can't paste text in any more!"
Maybe adam1567 should try copy some text like I did when copying his quote. Ctrl + V seems to paste whatever I have in my clipboard after I installed OnePress Image Elevator, be it an image or text.
OnePress Image Elevator also seems to have options to disable the plugin via the "is active" button shown in the bottom left screenshot.
Perhaps adam1567 might want to re-evaluate his review and perhaps do a bit more testing before rating some guys freely posted work 1 star.
There are also some premium features. Currently $13:
image resizing
image optimization by converting to JPG. It's available on Envato's "Code Canyon" website where it has a rating of 4.06 / 5 from 32 ratings and 341 sales. (5 Apr 2015). I always seem to type Envato wrong, so you should use my affiliate link to go check Image Elevator for WordPress out if those features appeal to you.
Hrmm, just checking, OnePress Image Elevator plugin appears to save snipped images as PNG. Something I will need to think about.
How to copy images for WordPress image paste
To copy images, you may be able to right click on the image in the browser and choose something like copy image. This feature depends on the HTML used to display the image.
OneNote has a great snipping tool. Windows also has a built in program called, "Snippet Tool". Then there are plenty of other options like Snag It. I assume Mac has something as well.
Imagepaste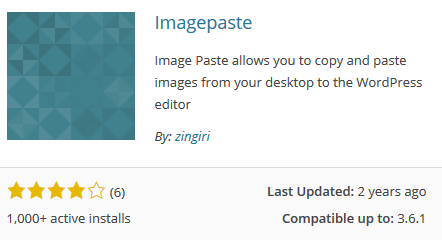 Sorry Imagepaste, OnePress Image Elevator seems to be working fine, so unless something happens, I'm going to leave you hanging for now.
I think I will be much more productive and be able to provide you plenty of images now. OnePress Image Elevator makes it much less painful to copy and paste an image! It's feels like I'm back in the modern world!